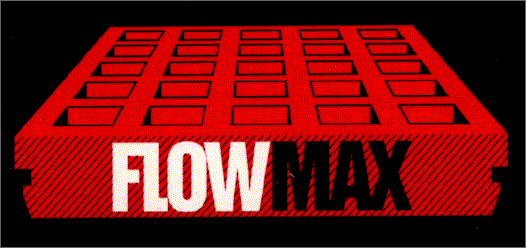 Flowmax offers major advantages over all other Modular Polyurethane Systems,
While Polyurethane screening systems have gained acceptance in the industry, selection has been limited to systems requiring radical deck modifications or inefficient, costly one piece screens plagued by premature failure.
Flowmax is the Modular Solution.
Individual Flowmax Modules are 12" wide x 24" long, allowing the best use of available area in conjunction with optimum efficiency in replacement and maintenance.
Flowmax's patented fastening method provides substantial locking area, assuring reliable holding strength. There are no pins, plugs, or other loose parts required.

There are no hidden costs either at time of purchase, or down the road.
Because of superior design, borders around the modules perimeter are smaller than any competitive product.

This increased open area translates to more throughput for your screening process.

Only Flowmax Polyurethane systems offer the combination of both tensionable and modular screens.

Our complete Flowmax tensionable system can be removed and replaced with standard wire screens or another Flowmax system quickly. Frequent spec changes present no problem.
As well as the standard tensionable system, Flowmax can be installed as a permanent flat deck, in sieve bends, trommels, or almost any other configuration.
[Polyurethane Glossary of Terms]
[
Technical

Reference

Index

]
[

Woven

Wire

Main

Index]
[

Wire

Cloth

Products]
Screen Technology Group, Inc
33008 NE Washougal River Road, Washougal WA 98671 USA
Screen Technology Group, established in 1988 With our success built on providing a level of customer service that is second to none, competent technical assistance, quality materials at competitive prices, properly package every order, always ship promptly according to schedule.
By using this website, you are agreeing that you have read and accepted the Terms of Use Agreement
Copyright © 20

15

Screen Technology Group, Inc.

All Rights Reserved.
Last modified: August 24, 2016